U.S. Senator Jacky Rosen & Climate Leaders Celebrate Historic Federal Investments in Clean Energy
April 13th, 2023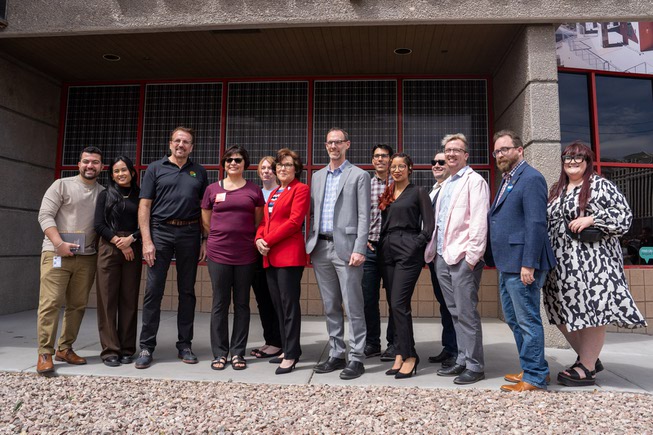 U.S. Senator Jacky Rosen, Clark County Commissioner Justin Jones, and leading public health, environmental justice, and climate advocates tour local solar business Sol-Up in Las Vegas,
Federal Investments in Clean Energy That Rosen Helped Secure Are Transforming Nevada's Economy
Las Vegas, Nevada – Today, U.S. Senator Jacky Rosen (D-NV), Clark County Commissioner Justin Jones, along with local climate leaders, toured Sol-Up Solar — a Las Vegas solar small business — to celebrate the unprecedented federal investments in clean energy that will benefit Nevada and the nation. The event, organized by the Climate Action Campaign, highlighted the Inflation Reduction Act (IRA) and the Bipartisan Infrastructure Law, which are creating jobs, helping to lower energy costs, and cutting climate pollution.
"Thanks to the Inflation Reduction Act and the Bipartisan Infrastructure Law, which I helped pass, we have the resources to build a brighter, more sustainable future for Nevada," said Senator Rosen. "These investments will create good-paying jobs, help lower energy costs for families, and help tackle the climate crisis. I am proud to have helped pass these historic investments, and I will continue advocating for clean energy that benefits Nevada."
The IRA is set to bring an estimated $2.7 billion of investment in large-scale clean power generation and storage to Nevada by 2030. Because of tax credits contained in this clean energy plan, an estimated 75,000 Nevadas are expected to install solar panels on their rooftops. In addition, thanks to the about $1.7 billion in federal funding has been announced for 103 infrastructure projects across the state.
Frank Rieger, Chief Executive Officer at Sol-Up, discussed the direct benefits of clean energy jobs. "As a local solar business, we see firsthand the positive impact these federal investments have on our industry. The support from Senator Rosen and the Biden administration help us create jobs and expand the solar market in Nevada, benefiting both our economy and environment."
With more than 30,000 Nevadans working in the clean energy industry already, that number is expected to grow dramatically because of the IRA.
A 2022 report found that federal clean energy stimulus investments similar to those considered in the Inflation Reduction Act would create more than 32,000 clean energy jobs in Nevada over five years. A more recent study by the Political Economy Research Institute found that Nevada will likely gain more than 42,000 jobs over the next decade specifically because of the Inflation Reduction Act.
The investments contained in both the IRA and the Bipartisan Infrastructure Law are not only creating good-paying jobs but also improving environmental resilience in Nevada.
Mark Peckham, Nevada Organizer for the Environmental Defense Action Fund emphasized the importance of continuing the momentum. "President Biden's clean energy plan has given our country the opportunity to reimagine jobs and our economy. Transforming our energy systems will lower costs for hardworking families and help our communities prosper. This work must continue with further investments in bold climate and clean energy solutions."
Echoing those sentiments was Angelyn Tabalba, Communications Director for the Nevada Conservation League and Education Fund. Highlighting the local benefits of the federal investments, she stated, "These historic investments will bring cleaner air, job opportunities, and help Nevadans fight the climate crisis. Our communities, especially those that have been historically underserved, will greatly benefit from the transition to clean energy and the slashing climate pollution."
Share This: