Cong. Johnson, Atlanta Officials & Climate Advocates Celebrate Historic Climate Investments
April 13th, 2023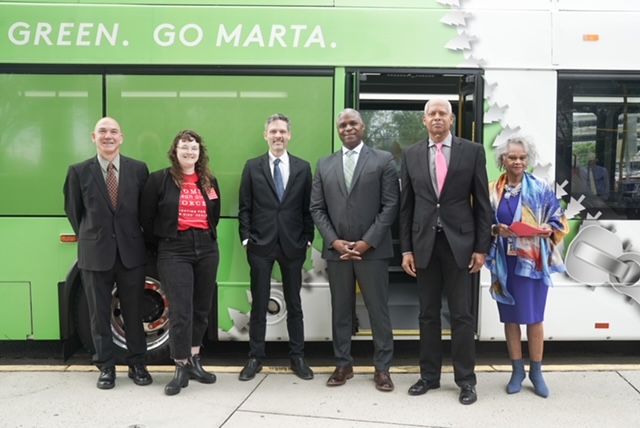 From left to right: Georgia Conservation Voters' Doug Teper, Moms Clean Air Force's Lily Zwaan, Doraville Mayor Joseph Geierman, MARTA CEO and GM Collie Greenwood, Rep. Hank Johnson, and MARTA Board Member Rita Scott
Atlanta's Clean Energy Future Bolstered by Unprecedented Federal Investments in Public Transit
Atlanta, Georgia – U.S. Representative Hank Johnson (GA-04), MARTA CEO and General Manager Collie Greenwood, Doraville Mayor Joseph Geierman, MARTA Board of Directors Member Rita Scott, Doug Teper of Georgia Conservation Voters, and Lily Zwaan, climate advocate with Moms for Clean Air Force, gathered today at the Doraville MARTA station to celebrate the unprecedented federal investments in clean energy and public transit in metro Atlanta and across Georgia. These investments come from the Inflation Reduction Act and the Infrastructure Investment and Jobs Act, which create good-paying jobs, cut climate pollution, and improve public transit infrastructure. The event was organized by the Climate Action Campaign and Moms Clean Air Force.
Representative Hank Johnson, who played a key role in securing these investments through his work on the U.S. House Transportation and Infrastructure Committee, said, "I am proud to have supported the Inflation Reduction Act and the Infrastructure Investment and Jobs Act, which will bring critical funding to Georgia for clean energy and public transit projects. These investments will improve the quality of life for our residents, create good-paying jobs, and protect our environment for future generations."
"Doraville has some of the worst air pollution in the metro Atlanta area from transportation and industrial emissions," said Doraville Mayor Joseph Geierman. "With the support from federal IRA and IIJA investments, Doraville will be able to improve air quality with cleaner transit options and protect public health for our residents."
These historic investments are expected to bring over $180 million of funding for large-scale clean power generation and storage to Georgia by 2030. The Inflation Reduction Act alone has already led to the announcement of $5 billion in federal funding for 177 infrastructure projects across the state, including $4.2 billion for transportation projects and over $213 million for clean water access.
Collie Greenwood, General Manager and CEO of MARTA highlighted the impact of these investments on public transportation, stating, "While using transit is, itself, a climate solution, MARTA is working to lower our carbon footprint by switching to a zero-emission fleet. Thanks to these historic investments, our first six battery electric buses are already on the streets, and we have 31 more on the way. MARTA is committed to creating a cleaner, more sustainable transit system that benefits our environment, creates job opportunities, and improves the overall riding experience."
"I say this not only on behalf of MARTA but to all of our federal leadership, thank you for what you've done to bring home what it takes for us to electrify our bus system," Rita Scott, Board Member, MARTA Board of Directors said in her remarks during the event. "I think it's so important that we have the opportunity to create new jobs with the electrification of our buses."
The Infrastructure Investment and Jobs Act allocated $10 billion in clean public transportation options. That includes a more than $19 million grant from the U.S. Department of Transportation to help MARTA purchase new, clean-running electric buses and charging equipment. Georgia school districts also received $51 million in grants from the U.S. Environmental Protection Agency's Clean School Bus Program. The Atlanta Board of Education, in particular, received almost $10 million to replace polluting, diesel-burning buses with cleaner electric ones.
Doug Teper, Policy Manager with Georgia Conservation Voters thanked Georgia's climate leaders in Congress who helped pass these critical investments: "Georgia is winning thanks to the dedication of climate champs in Congress like Rep. Johnson and Senators Ossoff and Warnock, who helped pass the largest investments in climate, clean energy, justice, and jobs ever. While our work isn't done, the IRA and IIJA will get us a long way to meeting the president's climate and clean energy goals."
Lily Zwaan, Advocate for Moms Clean Air Force Georgia, emphasized the importance of these investments for public health and the environment: "The federal investments in clean energy and public transit will have a tremendous impact on the health and well-being of our families and communities. By transitioning to cleaner transportation options and cutting pollution, we are creating a healthier, more sustainable future for our children."
In addition to funding for clean public transit and electric school buses, the Bipartisan Infrastructure Law and the IRA are making it easier and more cost-effective for drivers to switch from gas-burning cars to electric cars. The IRA offers consumer incentives, such as tax credits and rebates, to make electric vehicles more affordable for families. These incentives can help reduce the upfront cost of electric vehicles, making them a more attractive option for potential buyers. The IIJA also provides nearly $49 million for building out a statewide network of electric vehicle chargers in Georgia, which is part of a larger $7.5 billion investment aimed at creating the first national network of electric vehicle chargers in the United States.
These investments help reduce air pollution and make electric vehicles more accessible and convenient for Georgians, encouraging a widespread transition to cleaner transportation options.
A livestream of the event can be found here.
Share This: