One Year Later, the Need for Solutions for Pollution Has Only Grown
September 15th, 2023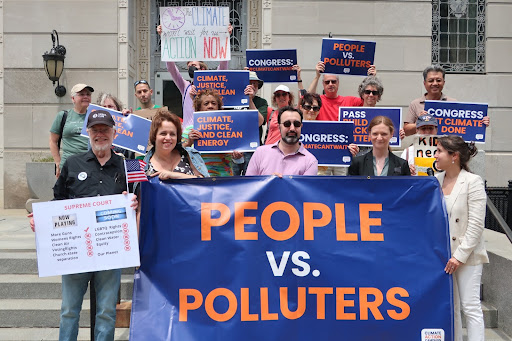 Coalition Now Stands 300+ Organizations Strong Nationwide 
Washington, D.C. — While much progress has been made, a coalition of hundreds of groups nationwide says the need for the strongest possible federal Solutions for Pollution from the Biden administration has only grown one year since the coalition began.
This week marks the one-year anniversary of the launch of the Climate Action Campaign's landmark Solutions for Pollution initiative, now supported by a broad array of over 320 environmental, climate, public health, environmental justice, youth, and clean energy organizations. The coalition has been focused on pushing the Biden administration to make good on its promise to use an all-of-government approach to cut climate pollution by 50-52% by the end of the decade while protecting our health and environment.
"President Biden made his commitment to cut climate pollution in half by 2030 a centerpiece of his election and presidency, and he and his administration have made great progress toward meeting that goal, " said Margie Alt, Director of the Climate Action Campaign. "But given the unprecedented heat and extreme weather we have experienced this year, it is obvious that much more needs to be done and it must be both bold and swift. Our Solutions for Pollution coalition has more than doubled in the year since it was launched — a sign of the urgent demand from Americans for solutions to the pollution driving the climate change impacts we are facing. One year later, we need the President to redouble his efforts to use every tool in his toolbox to protect our health, advance justice, and fight the climate crisis."
The Solutions for Pollution coalition, representing tens of millions across the country, has called on the Biden administration to implement approximately 20 specific pollution standards across federal agencies to help meet the president's promise to cut climate pollution in half by 2030 and reduce the pollution that endangers the health of all Americans and their communities. Since Solutions for Pollution was launched last September, 12 pollution standards have been introduced and 4 finalized.
The Solutions for Pollution campaign will continue to focus on engaging the administration and mobilizing the public to ensure the implementation of rigorous pollution limits on power plants and industrial sources, the strongest possible standards to reduce vehicle pollution, standards for more efficient appliances, limits on methane and HFCs, as well as more transparency for investors, shareholders, and others on climate risks to corporations, and more.
Share This: