NEW 'CLIMATE WINS HERE' MAP TRACKS CLIMATE & CLEAN ENERGY INVESTMENTS AWARDED ACROSS THE COUNTRY
March 22nd, 2023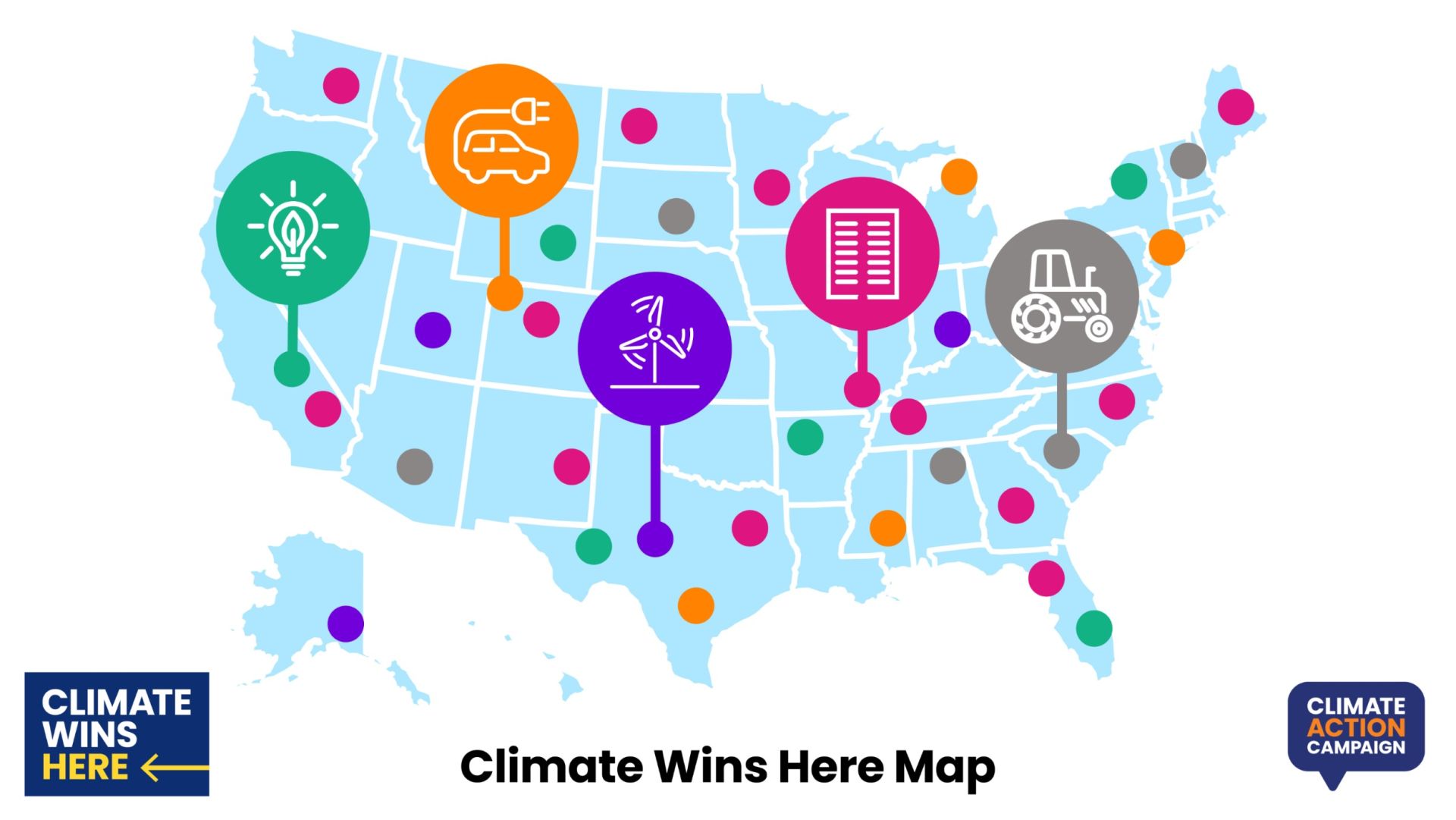 The Climate Action Campaign Unveils Interactive Map to Reveal How Communities Across America Are Winning Big from Climate Investments in the Inflation Reduction Act and the Infrastructure Investment and Jobs Act
Washington, D.C. – Today, the Climate Action Campaign (CAC) released a new, interactive 'Climate Wins Here' map to show where and how people across the United States are benefiting from climate and clean energy investments provided by the Inflation Reduction Act (IRA) and the Infrastructure Investment & Jobs Act (IIJA).
Together, the IRA and the IIJA include nearly $1 trillion dollars of investments to reduce climate pollution, build clean energy and make our communities healthier. $11 billion has been awarded so far, and the number is growing monthly. The Climate Wins Here map tracks not only where these historic investments are being made, but also how they're making an impact. The map provides background information about each investment and sorts them into distinct categories, including Infrastructure, Clean Transportation, Clean Energy & Power, and Environmental Remediation & Resilience.
"President Biden's clean energy plan is cutting pollution and delivering promised local investments in clean energy," said Climate Action Campaign Director Margie Alt. "This map will show the American people exactly how and where that's happening — including in their own states."
CAC's goal, according to Alt, is to connect the president's clean energy plan to the economic and environmental benefits that people across the country are beginning to see.
"The IRA and the bipartisan infrastructure law are accelerating our transition to a clean energy economy," Alt said. "Our Climate Wins Here map is connecting the dots for people, to show them these laws are already working. We're drawing a straight line from these historic climate investments to the improved air quality in their neighborhoods, the increased clean energy getting onto the grid, and to the infrastructure projects protecting their homes, businesses, and livelihoods from the ravages of a rapidly changing climate."
"Last Congress, Senate Democrats – under the leadership of President Biden – passed bold, revolutionary climate legislation that laid the groundwork for cleaner, more affordable energy for generations to come," said Majority Leader Schumer. "Americans will now feel the effects of these transformative laws as money is awarded and invested in communities across the country. Americans will feel these laws in their lowered energy bills, on the roads, bridges, and highways they use, in the good-paying jobs available in their communities, and much more. The Climate Action Campaign's Climate Wins Here map provides an awe-inspiring visual of just how expansive this legislation is and how many lives it will affect. And we are just getting started."
CAC is hosting the Climate Wins Here map on its website. We have tracked the investments and awarded funding that has "gone out the door" to specific states and projects since August 2022. The map includes data from The White House, EPA, DOE, DOT, DOI, and other related agencies that have announced the disbursement of funds allocated in the Inflation Reduction Act and Infrastructure Investment and Jobs Act.
Share This: