Advocates Call on President Biden to "Love Our Lungs" by Enacting Strong Soot Pollution Standards
February 13th, 2023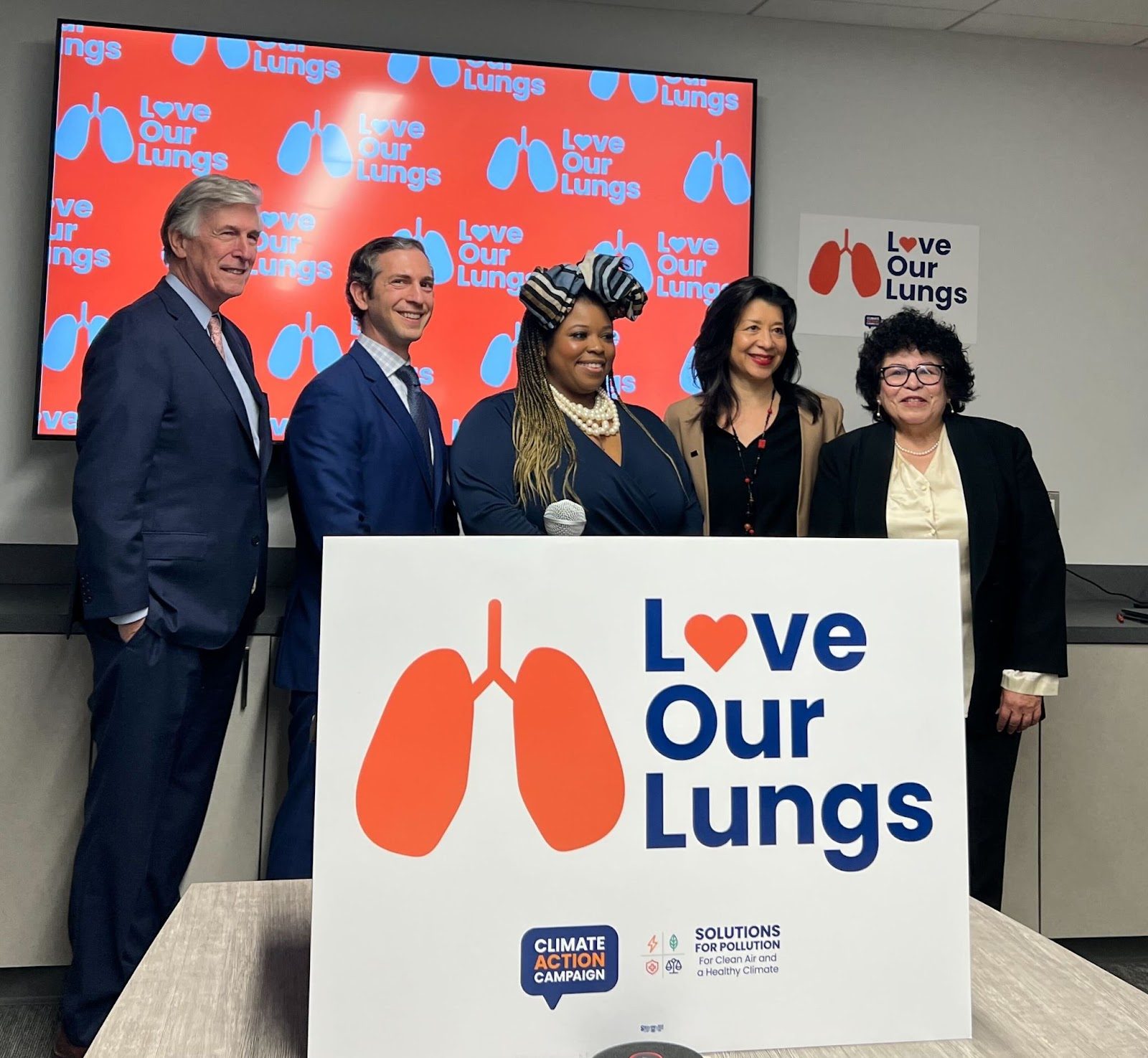 (Washington, D.C.) – Today, in an event organized by the Climate Action Campaign (CAC), members of Congress, public health experts, science advocates, and environmental justice leaders joined together, calling on President Biden and his administration to "Love Our Lungs" this Valentine's Day by using all of their existing authority to cut pollution and protect public health.
Gathered together as part of CAC's Solutions for Pollution coalition, speakers focused on soot pollution and the threat it poses to public health, urging the Biden administration to finalize the strongest possible standards to limit soot.
"While President Biden's affordable clean energy plan is already working to create good-paying jobs, fight climate change, and protect our health, there's more work to be done, especially when it comes to cutting deadly soot pollution," said Representative Don Beyer, who represents Virginia's 8th congressional district. "We need the President and EPA Administrator Michael Regan to follow the science and use every tool at their disposal to move forward with the strongest possible protections on soot pollution."
CAC launched its Solutions for Pollution coalition in September 2022 with more than 200 environmental, public health, clean energy, and youth organizations signed on. This effort is aimed at driving the Biden administration to make good on its promises to use an all-of-government approach to cut climate pollution by 50-52% by 2030 while protecting our health, environment, and advancing justice.
"The EPA has an obligation to enact the strongest possible soot pollution standards to protect public health," said Union of Concerned Scientists President Johanna Chao Kreilick. "The proposed standards are woefully inadequate. They don't reflect the daily or annual threshold that the EPA's own scientific advisory committee said would be the most protective. The Biden administration must set bolder standards to meet the president's commitments to cut pollution and protect public health.
Soot pollution – also known as "particulate matter," or PM2.5 – consists of all the tiny particles that are released when fossil fuels – such as oil, gasoline, or coal – are burned. These particles are too small to be seen with the naked eye, and can be inhaled deeply into our lungs, where they can even pass into our bloodstream.
"As a physician, I know that soot pollution is not a minor health problem and it impacts communities of color and those historically overburdened by pollution the most," said Dr. Elena Rios, President and CEO of the National Hispanic Medical Association. "Soot pollution has been linked to chronic diseases like asthma attacks, COPD, heart disease, hypertension, even dementia and Parkinson's disease. While the EPA has proposed a stronger soot standard, they missed an opportunity to save nearly 20,000 lives each year by failing to adequately tighten these protections. This is literally a matter of life or death for far too many Americans "
Amplifying her concerns was Dr. Panagis Galiatsatos, a pulmonologist and Assistant Professor at John Hopkins School of Medicine. "Breathing particle pollution is dangerous for everyone – no matter who you are. Exposure to this pollution is linked to many health risks and chronic conditions, and can even be deadly," said Dr. Galiatsatos, who also serves as National Volunteer Medical Spokesperson for the American Lung Association. "We have a very important opportunity right now to strengthen these standards, and to save many lives. We are asking EPA to follow the science and the Clean Air Act, and to strengthen and finalize these life-saving standards."
According to the American Lung Association, 63 million Americans are exposed to repeated short-term spikes in soot pollution, and more than 20 million Americans suffer dangerous levels of soot pollution on a year-round basis. What's more, the data show that people of color and people in low-wealth communities are more exposed to soot pollution than other Americans, making soot an important issue for environmental justice advocates.
"We know that people of color – Black people, especially – are more exposed to soot than any other demographic in America," said LaTricea Adams, Co-founder & President of Black Millennials for Flint. "This isn't a coincidence. It's the natural result of decades of discrimination. When highways are run through your community, when polluting industries are placed in your backyard, it's going to have an effect on your health. By enacting the strongest protections on soot pollution possible–along with other solutions for pollution–President Biden can make good on his promises to protect our health and advance environmental justice."
The event also featured video messages from climate champions in Congress – such as U.S. Representatives Abigail Spanberger and Joe Neguse – and from everyday Americans in communities across the country who are themselves dealing with the impacts of soot pollution on their health.
"Unchecked air pollution can cause serious illness, fuel the climate crisis, and contribute to decades of environmental injustice towards historically disenfranchised communities," said Representative Spanberger, who represents Virginia's 7th congressional district, in pre-recorded video remarks.
Representative Joe Neguse, who represents Colorado's 2nd congressional district, echoed those sentiments, noting that cities across Colorado have some of the worst air pollution in the country. "It's imperative – imperative – that we address this crisis and remain tuned in to the role that pollution plays in public health," Rep. Neguse said in pre-recorded video remarks. "I'm so excited by the Climate Action Campaign's progress to raise awareness on this issue, and I look forward to partnering with each and every one of you in all that's to come."
A livestream of the event can be found HERE, and a compilation of storyteller videos can be found HERE.
Share This: