Thirty-One Environmental, Faith, & Justice Organizations Collect Over 100,000 Petitions…
February 24th, 2022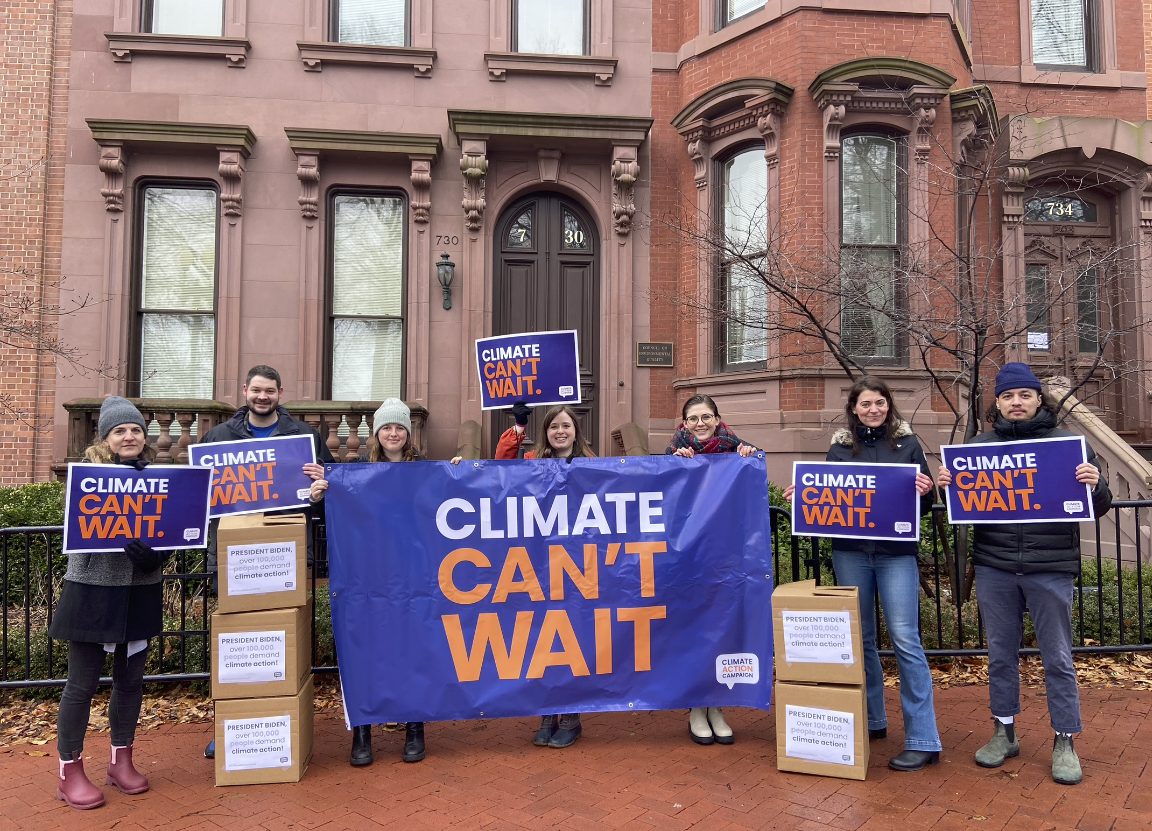 Thirty-One Environmental, Faith, & Justice Organizations Collect Over 100,000Petitions Urging President Biden & Senate to Make Historic Climate Investments
WASHINGTON, D.C. – Environmental groups today released over 100,000 petitions urging critical investments in climatefrom President Biden and the U.S. Senate, just days before the president's State of the Union Address.
Thirty-one national environmental, faith, and justice organizations collected petitions for the White House on behalf of 104,608 signers from across the country. The petitions call on President Biden to reconfirm his commitment to take bold action on climate and to do all that he can to push the Senate to pass critical investments that will deliver on climate, justice, jobs, and clean energy.
Climate can't wait. Americans want the Senate to immediately pass the $550 billion investments in climate, justice, and clean energy that the U.S. House of Representatives has already approved.
Photos and video from the petition delivery can be accessed here.
The following groups participated in the petition collection: the National Wildlife Federation, National Resource Defense Council, League of Conservation Voters, Environmental Defense Fund, Earthjustice, Union of Concerned Scientists, Sierra Club Arizona, Sierra Club Georgia, Sierra Club New Jersey, Interfaith Power & Light, Georgia Interfaith Power & Light, Pennsylvania Interfaith Power & Light, Nevada Wildlife Federation, Poder Latinx, Evergreen Action, Green New Deal Network, Black Millennials For Flint, the Green Door Initiative, Hispanic Access Foundation, Southern Alliance for Clean Energy, GreenLatinos, Physicians for Social Responsibility, Sisters of Mercy, United Methodist Women, National Religious Partnership for the Environment, Evangelical Environmental Network, the Religious Action Center of Reform Judaism, Students for Climate Action, Earth Day.Org, and Alliance of Nurses for Healthy Environments.
Following the delivery, Margie Alt, Campaign Director of Climate Action Campaign, gave the following statement:
"We need big and bold climate action NOW. Every second that passes without it costs more dollars, lives lost, and missed opportunities. Last year, 40% of Americans experienced the impacts of climate change-fueled extreme weather events. These extreme weather events are becoming more frequent and severe and will continue to worsen until we switch course. We thank President Biden for all he has already done to move the US toward clean energy and we look forward to working with him to do all that we can to get the Senate to pass $550 billion in climate investments that will deliver a cleaner, safer, and healthier future for our families."
Rev. Susan Hendershot, President, Interfaith Power & Light, gave the following statement:
"We need President Biden to make climate action a priority and help pass a bold climate bill to protect our health, our environment and our communities. We have a moral responsibility as a nation, and a sacred task as people of faith, to care for our climate, to advance environmental justice, and to leave a safe and thriving world for future generations. Climate can't wait."
Marianne Comfort, Justice Coordinator, Anti-Racism and Women for Sisters of Mercy of the Americas, gave the following statement:
"Climate change is not an abstract threat to Sisters of Mercy. Over the past few years, sisters and ministries have stepped in to assist battered communities in the aftermath of super storms pummeling the Philippines and Haiti and of damaging floods in Peru and in Iowa here in the U.S. That's why we continue to advocate for investments in clean technology, climateresilience, and justice for peoples most harmed by the climate crisis and the fossil fuel economy that is contributing to it. We urge President Biden and Congress to find a pathway to passing bold climate legislation to meet this administration's stated commitment to address this crisis."
Elizabeth Chun Hye LEE, Executive for Economic and Environmental Justice and Climate Justice Lead, United Methodist Women, gave the following statement:
"Women of faith from across the country have been knocking on the doors of the White House and Congress with this message: caring for the earth and our neighbors means passing ambitious climate justice legislation now. As the largest historic emitter of greenhouse gas emissions, the United States has a moral responsibility to do its fair share to address the climate crisis. The $550 billion in climate investments must be directed towards just energy solutions and environmental justice communities most impacted."
Sumer Shaikh, Press Secretary, Green New Deal Network] gave the following statement:
"All across the country, our families and neighbors are being burdened with climate disasters, high energy costs, and toxic pollution and yet our communities continue to wait on lawmakers to finally take urgent and bold action. It is past time that our leaders create policies that act on climate, care, jobs and justice so that we can transition to a fairer, healthier society. This is the decade of the Green New Deal, a decade where everyone will have access to clean water, housing, transportation, and so many other essentials, if only our elected officials will start to lead with earnest fervor so everyone can have fulfilling and dignified livelihoods."
Irene Burga, Climate and Clean Air Program Director, GreenLatinos, gave the following statement:
"We need climate justice now. Our comunidades are suffering. Alongside the climate impacts devastating frontline Latinx communities, we are suffering the most from toxic air pollution and the health consequences. Hispanic children are 40 percent more likely to die from asthma, as compared to non-Hispanic whites. No community should have to bare the brunt of climate change and air pollution, and that's why we need President Biden to make climate action a priority. It's a matter of taking steps forward toward building a more equitable society that no longer condones environmental racism."
LaTricea Adams, Founder, CEO, President, Black Millennials 4 Flint, gave the following statement:
"As a Black, childbearing woman, I represent the most vulnerable group of women where climate change literally puts me and people who look like me at risk of miscarriage, premature birth, or even death making the call to action for climate justicea life or death situation. We need President Biden to act on climate now to save Black mamas and Black births."
Shanna Edberg, Director of Conservation Programs, Hispanic Access Foundation, gave the following statement:
"Our communities need climate justice now. From its root causes to end results, the climate crisis has harmed Latinos and other communities of color disproportionately. From on- and offshore drilling that overwhelmingly pollutes our communities, tothe burning of oil and gas on our highways and power plants located disproportionately close to neighborhoods of color, tothe storms, drought, extreme heat, and out-of-control wildfires caused by increasing global temperatures – our communities are impacted at every step, and our health is at risk. It is urgent for Congress and the Biden administration to fix this system with bold action, before our climate and our families suffer even more consequences."
Share This: