KSNV: Clean energy advocates & NV officials call for federal investment in electric school buses
August 9th, 2021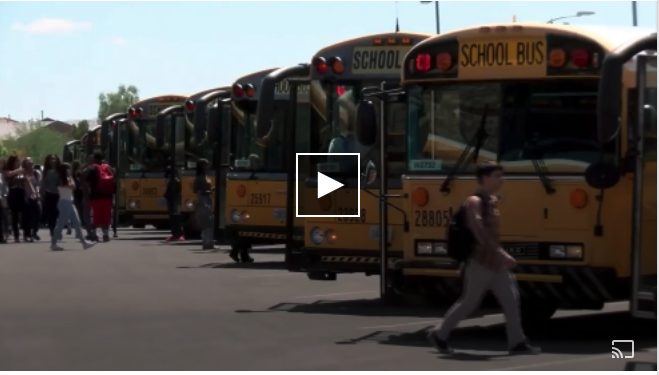 By Alexis Goree
LAS VEGAS (KSNV) — Clean energy advocates and state leaders want to transform Clark County school buses into electric buses but they need help from congress to do it.
An initiative is part of the climate action campaign to clear the air and possibly bring more jobs to the Silver State.
"Clark County was recently given an F-grade by the American Lung Association for our poor air quality and heavy air pollution in the valley," said Cinthia Zermeño Moore of Moms Clean Air Force Nevada and EcoMadres.
As a mom to a 4-year-old with asthma, she understands the impact of poor air quality. The pollution she said, is linked to a variety of health issues including asthma and other respiratory issues.
"Inside the school bus, the air pollution can be up to 10 times worse than the air outside. Many times not meeting federal standards," Zermeño Moore said.
The task at hand, transforming our current school and public transportation bus fleet to zero emissions.
"Senator Cortez Masto has already co-sponsored legislation to fund electric school buses and school districts across Nevada are considering a zero emissions models to protect children's health and air quality," said Rudy Zamora, CHISPA program director.
A virtual webinar Tuesday with local clean air advocates, Clark County Commissioner Justin Jones and Senator Pat Spearman revealed the electric transformation is an investment the state can't provide on its own.
"It's more of an upfront cost to a school district than a typical diesel bus," said Albert Burleigh, executive director for electric vehicle sales, Blue Bird Bus Corporation.
An electric school bus costs around $230,000 versus a diesel bus that costs around $110,000.
Advocate said President Biden's infrastructure package can help.
"The Biden administration is currently proposing 20 billion dollars to transition 20% of the national fleet for school busses. That's a start," Zamora said.
"So, this package will not only help us create healthier communities, but it will also bring good-paying jobs to so many. Investments in clean energy and clean transportation has the potential in creating over 1 million manufacturing job across the nation," said Verna Mandez, Deputy Director of Nevada Conservation League and Education Fund
According to a recent Environment America report, while electric school buses cost around $120,000 more than diesel. Lifetime fuel and maintenance savings of electric school buses are around $140,000.
The Blue Bird Bus Corporation currently has 800 electric buses running in 22 states. They offer vehicle to grid technology, a chance to make money back.
"With full interconnections with utilities which allows the stored energy on the batteries to be sold back to the grid which gives our customer an opportunity to earn revenue with their electric school buses," Burleigh said.
Burleigh said replacing diesel with electric removes about 23 tons of greenhouse gasses per year
So, the call is out to state representatives.
"I call upon them, and Congressional representatives Dina Titus, Susie Lee and Steven Horsford to support the infrastructure bill and additional efforts to invest in EV infrastructure, research for clean energy and clean transportation," Commissioner Jones said.
Share This: