Four Members of Congress Receive the First Annual Climate Change-Maker Award
March 22nd, 2022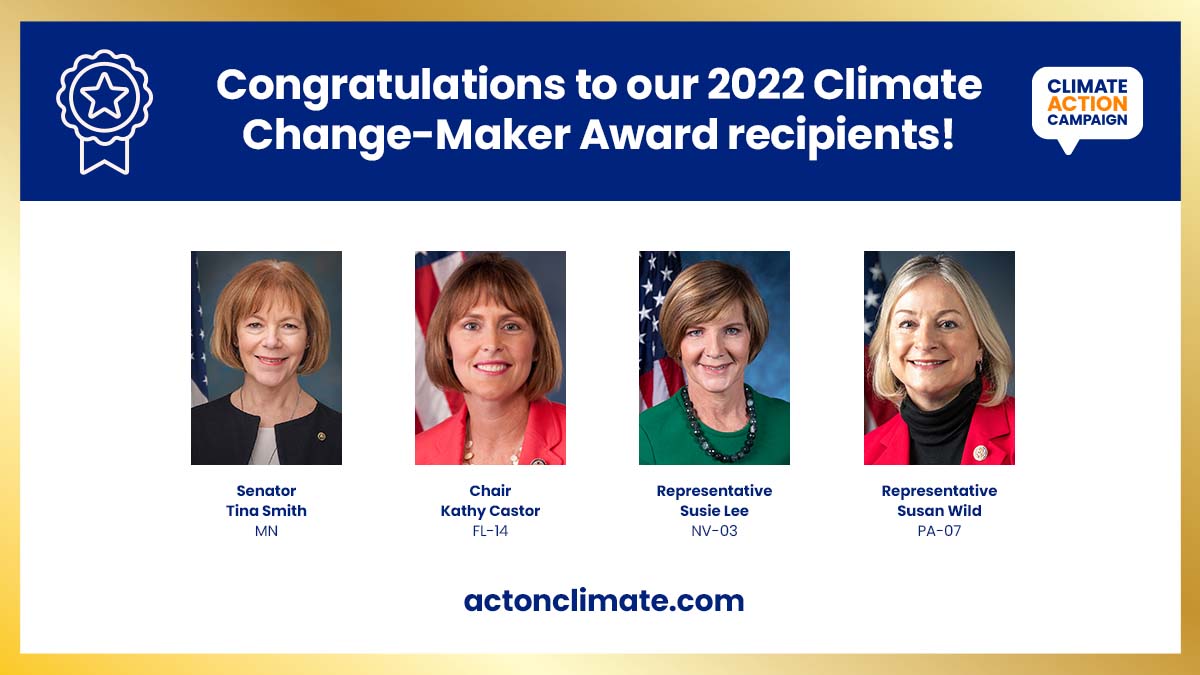 (Washington, D.C.) – Today, the Climate Action Campaign (CAC) announced the recipients of the first annual "ClimateChange-Maker" award granted to six lawmakers for their leadership in raising the urgency of federal investments in climate, justice, clean energy, and jobs.
The Climate Change-Maker Award will be presented to Senator Tina Smith (MN), Chair Kathy Castor (FL-14), Rep. Susie Lee (NV-03), and Rep. Susan Wild (PA-07).
CAC is presenting the awards on behalf of the following groups: Center for American Progress, Earthjustice, Environment America, Environmental Defense Fund, Interfaith Power & Light, League of Conservation Voters, National Hispanic Medical Association, National Wildlife Federation, Natural Resources Defense Council, Sierra Club, Union of Concerned Scientists, U.S. Climate Action Network, WE ACT for Environmental Justice.
The 2022 Climate Change-Maker Award recipients were chosen based on their climate leadership and dogged advocacy, and their work with President Biden and their colleagues in Congress to champion critical investments in our clean energy economy and cut the carbon pollution that exacerbates climate change.
"We are pleased to recognize the first annual Climate Change-Maker Award winners for their impressive leadership and effective work in Congress to tackle the climate crisis, address environmental justice and expand clean energy investments," said Margie Alt, Campaign Director of CAC. "We thank the 2022 Climate Change-Makers for all they have already done to tackle climate, justice and jobs and we look forward to working with these trailblazers to get the Senate to pass $550 billion in climate investments that will deliver a cleaner, safer, and healthier future for our families."
"If we continue business as usual, climate change will be an economic, environmental and public health disaster," said Senator Smith. "Yet this crisis also presents enormous opportunities to grow our economy, improve public health, address environmental injustices, and pass on a livable planet to our children and grandchildren. A clean energy future is coming, thequestion is whether we lead or follow. I, for one, want us to lead. I want to thank the Climate Action Campaign for this recognition. I will continue to do everything I can to pass strong federal legislation that meets the urgency of this moment and helps ensure the United States is a leader in the 21st century economy."
"I'm grateful for the opportunity to fight for climate action every day in order to expand environmental justice, secure cleaner air, lower energy costs, and boost resilience across America," said Chair Castor. "As the costs of climate-fueled disasters continue to rise, I'm committed to continue working with my colleagues in Congress to expand affordable clean energy, reduce pollution across the board, and better prepare our communities for climate impacts. I'm grateful for this recognition, proud to be in such great company, and grateful to our friends at Climate Action Campaign for being crucial partners in this fight."
"I'm extremely honored to be recognized for my work to advance federal legislation and bold climate action," said Representative Wild. "As lawmakers, we have a moral obligation to pass legislation that not only protects our planet now, but preserves it for generations to come. I also want to thank the many activists and community leaders across the Greater Lehigh Valley and Pennsylvania as a whole for their tireless advocacy on climate leadership. Together, I am confident we are going to create quality jobs, a more sustainable economy, and a brighter future."
"These Climate Change-Makers have grasped the moral opportunity to lead on climate solutions and environmental justice, and to protect those who are most vulnerable to climate impacts. Interfaith Power & Light is excited to give these members ofCongress the recognition that they deserve for their efforts to provide a safe, thriving world for current and future generations," said Rev. Susan Hendershot, President, Interfaith Power & Light.
"Climate change is making extreme weather more frequent and severe, which could have devastating impacts on families from coast to coast. Now is not the time to delay bold climate action and critical climate investments that will create jobs and protect American families from volatile energy prices and dangerous pollution. That's why we are so grateful for the six incredible women whose leadership on climate action has earned them this year's Climate Change-Maker Awards for helping put the country on the path to a healthier future," said Tara Losoff, National Wildlife Federation.
Share This: